Divi Cloud - Cloud storage for Divi layouts and content
With Divi Cloud, you can upload your layouts from any of your websites and reuse them on any other website. Similar to Dropbox, Google Drive or One Drive on your PC, you simply store all your content in the cloud and reuse it wherever you are online.
This is how web design works in 2023! The future is here…
Let's take a closer look now!
What is Divi Cloud?
If you know some English, it's best to watch the five-minute video first. It explains the most important stuff.
Divi Cloud is an online storage for layouts, elements and content created with Divi Builder. Similar to Dropbox, you put your items in Divi Cloud and can reuse them on any other website or computer. Perfect for teams, too.
When you store something on Divi Cloud, you can access it from any of your Divi sites.
The first version of Divi Cloud focuses on Divi layouts, modules, lines and sections. These are the assets you can currently store in your cloud. However, work is underway to expand Divi Cloud to support all areas of your Elegant Themes website.
How much does the Divi Cloud cost?
| | Free | Monthly | Annual |
| --- | --- | --- | --- |
| Storage | limited | unlimited | unlimited |
| Elements | 50 | unlimited | unlimited |
| Websites | unlimited | unlimited | unlimited |
| | | $ 8,00 | $ 96,00 |
As long as you have an active Elegant Themes membership, you also have access to the Divi Cloud.
You are only limited by the number of layouts or modules you want to save. With the free version you are limited to 50 pieces. I'm sure many of you can get by with that.
For agencies and freelancers, however, the low-cost, paid variant is worthwhile.
Divi Cloud connection and login
If you're not a regular Divi user, you may be asking yourself:
Where can I find the Divi Cloud?
You can find your Divi Library right in the editor of your Divi theme.
Either click on the green plus button in the middle of the Divi Page-Builder and then on "Divi Library". Or the purple plus button at the very bottom.
In the "Saved Layouts" tab, you will now find the blue button labeled "Sign In To Divi Cloud". Click on it now.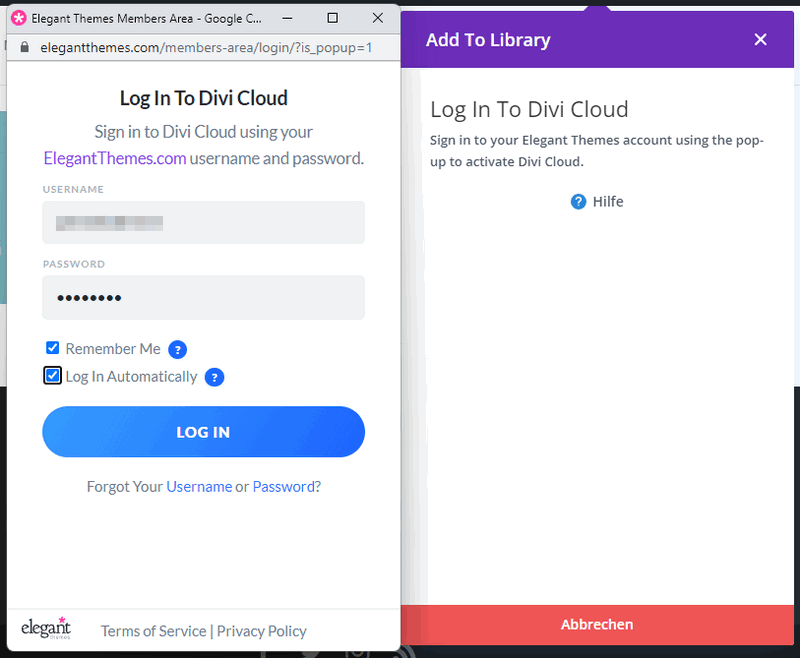 After that, a popup will open where you need to enter your login details from elegantthemes.com. This will connect you to the Divi Cloud in any WordPress installation.
How to save a layout
Anywhere in the editor where you find this button with the down arrow, you can access the save to web dialog. The following four options are available:
Save module
Save line
Save Section
Save Layout
In the dialog that opens, you can still specify a name for your layout and assign category and tags. But don't forget to activate the "Save To Divi Cloud" slider.
Manage your designs online
In your Divi Cloud, you manage your layouts the way you want.
First, you have the following categorization at the top:
This Website
My Divi Cloud
Just below that, you can create your own categories and tags. Especially if you run multiple websites, or even have clients, managing in categories is extremely handy.
Once your layout is in the cloud, a screenshot of it is automatically generated.
Divi Cloud for agencies and freelancers
The Divi Cloud is perfect for Divi freelancers and agencies because you can share your assets with your collaborators or clients.
The structure also allows you to create categories and tags. So you can sort your layouts and elements by project, niche or application area.
For Divi pros, working with the theme has never been so exciting!
Features
Store unlimited layouts
The membership offers unlimited storage and unlimited usage. For a monthly fee of $8.00, you can store as many elements in the cloud as you want and use them on any website. That's really cool!
Automatic screenshots
When you save a layout in, Divi automatically takes a screenshot and saves it to the cloud so you can more easily find your layouts in the list.
Never leave the builder
Divi Cloud is located right inside the visual builder. You can manage and access your elements as you build a page. Your layouts are always right where you need them.
Easy browsing
Browsing Divi Cloud is so much easier than browsing a list of posts in the WordPress dashboard or a list of files on your PC. You can search, filter, switch view modes, and rearrange the list.
Better layout organization
Divi Cloud makes it easy to organize your layouts. You can create folders and organize items into categories.
Easy upload of layouts
It's easy to upload your layouts to the cloud. You sync elements from any website and save layouts directly to the page.
Favorite layouts
Keep track of your favorite pre-made Divi layouts. When you're logged into Divi Cloud, Divi remembers your favorites so you can find them again more easily.
Safe and secure
Divi Cloud is authenticated in your browser with your Elegant Themes username and password. You can use it on any website without giving access to your clients or their website.
Elegant Themes has big plans
Divi Cloud Libraries
Take your productivity to the next level by managing your cloud assets in organized libraries.
Theme Customizer Settings
Store WordPress customizer configurations directly in your cloud for easy reuse across all your sites. Wow
Divi Builder Presets
Take the power of design presets and amplify them by saving them to your cloud to use when building any Divi website.
Theme Builder Templates
Save your Theme Builder templates and groups of templates to the cloud so you can set up and build fully customized websites in just a few clicks.
Code snippets
Store the code snippets you use all the time in a single place and have them show up when you're in a custom code field.
Theme Options
Take the variety of Divi theme options and export custom configurations to your Divi Cloud.
Third-party integrations
Take the content you create with third-party plugins and save it to your cloud for easy reuse. Think about storing contact forms created with a contact form plugin, or events created with a calendar plugin.
Website exports
Export entire websites to the cloud for the ultimate quick start when creating new websites.
Divi Builder settings
Take your favorite Divi Builder settings with you and import them at the start of each new website.
Child Themes & Plugins
Use Divi Cloud as a central repository for all your favorite Divi Child Themes and Plugins.
Fonts and colors
Store custom fonts and pre-built color palettes in the cloud so you don't have to keep searching for those font files and hex values.
FAQ
Conclusion
I have to say, Divi Cloud is really well thought out and the pricing is fair as well.
I assume that most people will get by with the free version, and those who have multiple websites will certainly be happy to afford the subscription.