WordPress Backup and Malware Removal with BlogVault
WordPress backup, firewall, and malware removal for your website are an important but also intimidating topic. You can use and set up a wide variety of services and plugins for this, or simply rely on an excellent provider and save time and money. Here's how I do it with BlogVault.
Securing your website from loss, alteration and misuse is not a trivial task. With daily backups, a firewall, and a scanner that removes malware instantly and reliably, you can take care of your website's content in a relaxed way.
I used to use an elaborate shell script for the backup and two plugins for security and virus protection. Overall, this solution was complex and had to be constantly improved. I have been sparing myself this stress for two years.
WordPress Backup
Daily encrypted offsite backup.
Firewall
Protect your website from attacks by hackers.
Malware Removal
BlogVault scans and cleans your website daily automatically if infected.
The all-round protection BlogVault
By chance, I came across the service of BlogVault. The BASIC plan mainly takes care of the backup of your website. Included with each plan is the management of your website.
It gets really interesting from the PLUS plan, there are also all security features such as malware removal and firewall.
| | Basic | Plus | ADVANCED |
| --- | --- | --- | --- |
| WP Backup, Staging and Migration | Yes | Yes | Yes |
| Firewall, Malware, Login Protection | No | Yes | Yes |
| WordPress Management | Yes | Yes | Yes |
| Speed check | Yes | Yes | Yes |
| Uptime Monitoring | No | No | Yes |
| Team and Customers (White Label) | No | No | Yes |
| | $7.40/month | $12.40/month | $20.75/month |
The prices are each for a WordPress website. If you have multiple websites, the prices will be significantly cheaper.
The WordPress backup service is currently only accessible in English. Even if you hardly speak English, this should not be a problem, most functions are self-explanatory and provided with a meaningful icon.
Installation
First, you need to create an account. You can test the complete service for 14 days free of charge. For this trial you do not need to specify any means of payment.
If you are not automatically directed to create your first website, click the green ADD NEW SITEbutton in the Sites menu.
BlogVault installieren und einrichten. Vier einfache Schritte zur vollständigen Sicherheit deines WordPress-Blogs.
Enter website URL
Paste the address of your website and click CONTINUE.

Let BlogVault plugin install automatically
You now have several options to install the BlogVault plugin. The easiest way is to specify your WordPress admin and your WordPress password so that BlogVault can do the rest.
As soon as you click on CONTINUE, the WordPress plugin is installed in the background and starts working. As you will read later, it is much more than just a backup plugin.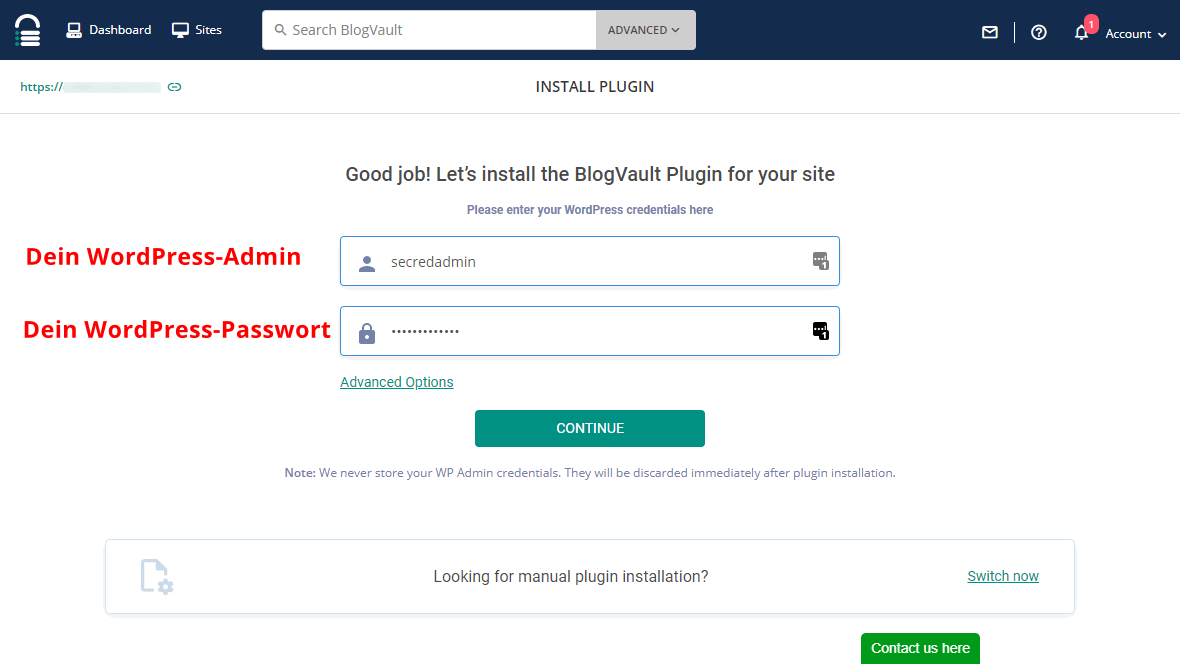 Data is synchronized and the first WordPress backups are made.
BlogVault immediately starts synchronizing all data with your website. The first backup is made of your files and database and stored encrypted at BlogVault.
The firewall is activated and the first malware scan is started. From now on, performance monitoring and the uptime check are also running.
Check Backup
Once completed, you should check the WordPress backup once. Click Test Backup and BlogVault will create a standalone staging site for you. This is a 1:1 copy of your website.
Your WordPress blog is now backed up daily, is protected by a firewall and scans all your files for malware.
WordPress Backup
The main component of BlogVault (Vault means vault) is the fully automated and daily WordPress backup of your entire WordPress website. All files, themes, plugins, uploads and the database are backed up.
In short: Your entire blog is backed up.
If you do not have any special requirements, the service will take care of the backup of the website without the need for any intervention on your part.
You can check the status, trigger the backup manually or view all backed up files and tables. A manual backup is simply stored on the day. In normal operation, however, you do not have to worry about anything.
WooCommerce Backup
Your WooCommerce website needs more than just daily backups. Especially if you have multiple orders a day, you want finer recovery options.
Secure all orders, how and when they take place.
Restore at any time with 365-day backup archives.
24×7 data backup with offsite storage.
Custom table backups for WooCommerce stores.
You won't get these WooCommerce backup features until you get the ADVANCEDplan.
Restore
The most important thing is probably to restore the backup in case of a problem. You can do this safely and completely via the Restore Sitebutton.
But that's only one possibility. BlogVault offers a wealth of other options:
Restore Site
Migrate Website
Upload to Dropbox
Download WordPress Backup
Restore individual files and tables
It is important to know: Your data is secure and encrypted with BlogVault. You have access to it at any time and can recover lost or corrupted data immediately. Also from an earlier date, as the old backups are being canceled.
Download and Cloud Storage
Your daily backups are safe with BlogVault. But if you want to save additional backups, you have two options.
You can copy your backup to your Dropbox account at any time by clicking on it.
But this does not happen automatically.
You can find the button for this under Sites > Your Blog > BACKUPS.
In the same menu you will also find the button Download Backup.
You can then save the ZIP file locally or back it up to Google Drive, OneDrive or iCloud.
Firewall and malware protection
The second important component of the protection package is the firewall and protection against malware and viruses.
Real-time protection against the latest threats is implemented with BlogVault's smart firewall. The tool uses the collective intelligence from its network of websites to detect and block threats from hackers and bots in real time.
Instant & Guaranteed WordPress Malware Removal in Less Than 60 Seconds

blogvault.net
With BlogVault's fully automated malware removal, you can clean your hacked website without having to wait days or hours. With one click, everything was done for me.
Exactly the following functions are listed:
Automatic Malware Scan:Detects complex malware that other WordPress security plugins can't detect.
Automatic Malware Removal: The automatic and complete malware removal with one click.
Unlimited Malware Removal:Clean your website of malware for free, as often as necessary.
Website Firewall – Plugin based:Monitor and block malicious IPs and visitors who send requests to your website. A powerful web application firewall for continuous website protection.
Login Protection:Automatic CAPTCHA-based protection against bots trying to gain access to your website.
If you suspect unauthorized access, you can have your blog scanned manually at any time. Otherwise, the malware scan happens automatically on a daily basis.
Other features
BlogVault can do much more than WordPress backup. We also take a look at these functions:
Staging and Migration
The Staging and Migration services are built on top of the Backup service.
With a staging website, you have a copy that you can make changes to that you can replay back if needed. This feature is very handy, especially for customers where you can't make any adjustments to the running system.
With the migration, you can move your website from one provider to another. BlogVault does this fully automatically for you.
WordPress Administration and Updates
Especially if you have more than one website, WordPress management is very convenient and time-saving.
From here you can update WordPress, themes and plugins. You can see at a glance whether there are problems where and whether updates are available.
Uptime Monitoring
You certainly want to know if your website is not available. With my plan, the condition is checked every 15 minutes. If there is a problem, I will of course receive an e-mail.
Loading
The speed of a website can be a tiresome topic. Since Google has included loading times in its algorithm, we all have to take care of it! But let's be honest, nothing is more annoying than a blog that takes 10 seconds to load.
The following values are measured:
Pagespeed Score
Loading
Page
Requests
As can be seen in the screenshot above, my pagespeed is very good with a value of 95. However, I would like to improve the loading time of 2.22 seconds.
White label for customers
You can set up users for your own team. With the right plan, you can also create customers and let them access their own dashboard.
Thanks to the white label, you can adapt the customer WordPress backup to your own design so that it looks like the service is by yourself.
Integrations
At the time of the article, only the integration of Slack is possible. This will give you all the notifications in your Slack channel.
World Class Support
I prefer to use online chat when I have questions for support. That's exactly what I did on Sunday, January 3rd. I didn't expect a direct answer here, but it was only a few seconds before Sophia took care of my concerns.
Really good!
2020 Updates
Here's a quick overview of all the features BlogVault released this year:
The 1-click wonders

1-click clean-up without FTP
WordPress Backup: Restore with just one click!

More safety – For a better sleep

Personalized vulnerability alerts
Advanced bot protection
Lock plugin/theme function

Personalized reports – Especially interesting for customers

Choose your sender email ID and logo.

Send reports in the language of your choice.
Use custom fields to customize your subject line and email body.
Create and save templates for easy use.

Faster and easier updates

Mobile compatibility for updates on the go
Changelog for plugins/themes
Block auto-update function
Easy filtering for bulk updates

Enjoy better control over your websites

Lock plugin/theme function
Activity Log (Beta)
FAQ
Can BlogVault be used for WooCommerce stores?
BlogVault is a WordPress backup and restore plugin, and it can backup WooCommerce websites. It even backs up the WooCommerce tables.
The service integrates well with WooCommerce, especially with the special Real Time Backups functionality. Every time there is a WooCommerce data update in the store, BlogVault makes a backup. This is a real-time backup and it makes sure you don't lose a single change or order.
Where is the backup stored?
The backups are stored encrypted on the provider's servers and additional on Amazon S3.
Do I need to disable other backup plugins for WordPress?
BlogVault does not cause conflicts with other plugins. That means whether you want to keep other backup plugins or not is up to you.
Can individual tables be excluded?
Yes, you can choose exactly which tables should be saved in the WordPress backup.
Best WordPress Hosting
Hosting recommendations are usually garbage.
Often extremely cheap hosting packages for $ 3 are recommended, others advertise a $ 100 VPS, because they earn the most as an affiliate thereby. In the end, we all just want the fastest possible web space for as little money as possible.
And optimized for WordPress!
What else is important? The server should be a fast backbone for your website and the support should answer as fast as possible, and preferably in your language.
You can get all this at Cloudways from $ 10,00 / month.
Conclusion
If you just want to take care of your content and you're not an IT technician, you still shouldn't have to do without a regular WordPress backup, firewall, and malware removal.
I have found the right service for myself. BlogVault takes care of all my security concerns. Affordable and fully automated.
I love BlogVault!
If that's not the right solution for you, check out my article on the best WordPress backup plugins.