All-Inkl: Half-hearted WordPress hosting from the hoster of hearts
To be honest, I didn't have to think too long about a suitable headline for All-Inkl. "Hoster of the hearts" came to mind when I thought about how often All-Inkl was recommended to me in personal conversations several years ago. Or when I think back to all the forum posts saying I should give All-Inkl a try. These are my experiences with All-Inkl.
All-Inkl is a relatively cheap hoster from Germany that offers shared hosting, servers and domains. There is no special focus for WordPress. The provider is rather recommended for beginners without certain requirements. PHP and MySQL are also available in the smallest packages.
But all that was a long time ago and when I look at All-Inkl's website, even their glory days are long gone. The impression is inevitable when I see buttons from the Web 2.0 era or the generally dull presentation of the different tariffs. I don't even want to talk about the mobile website here. As a customer, nothing would interest me less and even the landing page for WordPress hosting seems to be more tokenism than genuine interest.
All this was exciting enough for me to take a close look at All-Inkl after many years. Today it's about the hoster of hearts and whether it can keep up with the hosting of WordPress or only has half-hearted WordPress hosting to offer.
The company All-Inkl in a short company portrait
All-Inkl was founded in the year 2000 in Saxony, Germany. As a web hoster, All-Inkl was and is therefore also one of the long-established, which has been there since the early beginnings. The name stands for "(almost) everything included", as it says so beautifully on its own website, and symbolizes the strengths that the company set for itself from the beginning.
All-Inkl itself wants to offer customers the fairest possible price-performance ratio, with plenty of individual support. This is underscored by the fact that, according to All-Inkl, 80 percent of new customers come through recommendations from existing customers.
Basically, All-Inkl also wants to draw attention to the fact that the hoster is fully committed to honest satisfaction with its products through this fact. It is not about being immediately on top of every trend, but rather about being able to provide an actually high-quality service with brilliant support. This way, in the end, every customer is satisfied and is happy to recommend All-Inkl to their friends accordingly.
WordPress hosting at All-Inkl is not one at all
Now, All-Inkl does have a landing page on WordPress hosting, but they don't offer it. The website links quite classically to the current web hosting offers, on which WordPress can be installed if required. To make this as simple as possible, All-Inkl has at least provided a software installer that takes care of this installation for you.
However, special WordPress hosting is basically not provided at All-Inkl. Instead, the provider makes it clear that each of All-Inkl's hosting products meets the necessary requirements for WordPress and can be operated accordingly with the CMS without any problems. There is something to that, but this approach has little in common with a contemporary WordPress hosting. Here, providers like Raidboxes are miles ahead.
Thus, this form of hosting is no longer really up-to-date. Today, special rates are brokered with customized servers that use LiteSpeed, Nginx or MariaDB, for example, as an alternative to the classic web server software. Mostly because this can lead to more performance in combination with WordPress. I don't see any of that at All-Inkl for now. Here, there are web space and servers like "anno dazumal".
Classic hosting with servers and customers
Instead of customized systems, All-Inkl offers classic hosting with a limited number of customers per server. This way, each customer gets their allocated space and a fixed performance. This ensures that not too many customers are allocated to a server at once.
The prices then also include everything that goes with it. All inclusive, the domain is also already included. The cheapest package costs about 5 Euro per month, the most expensive one costs about 25 Euro. The web hosting packages I consider less interesting and see All-Inkl rather as a server provider for those who want to perceive more power and freedom.
| | Private | PrivatPlus | Premium | Business |
| --- | --- | --- | --- | --- |
| Domains included | 3 | 5 | 10 | 20 |
| Visitors / month | unlimited | unlimited | unlimited | unlimited |
| Storage space | 50 GB | 100 GB | 250 GB | 500 GB SSD |
| Backups | 4 weeks | 4 weeks | 4 weeks | 4 weeks |
| | € 4,95 / month | € 7,95 / month | € 9,95 / month | € 24,95 / month |
Prices by monthly payment and incl. VAT.
Here the prices start from about €100 per month and end at €500. These are managed servers, so the administration is done by All-Inkl. On such a server are then of course several WordPress installations possible and the performance is still fully sufficient for demanding projects.
I think the setup fee is always cancelled. SSL certificates are not included with Privat by the way.
KAS or Customer Administration System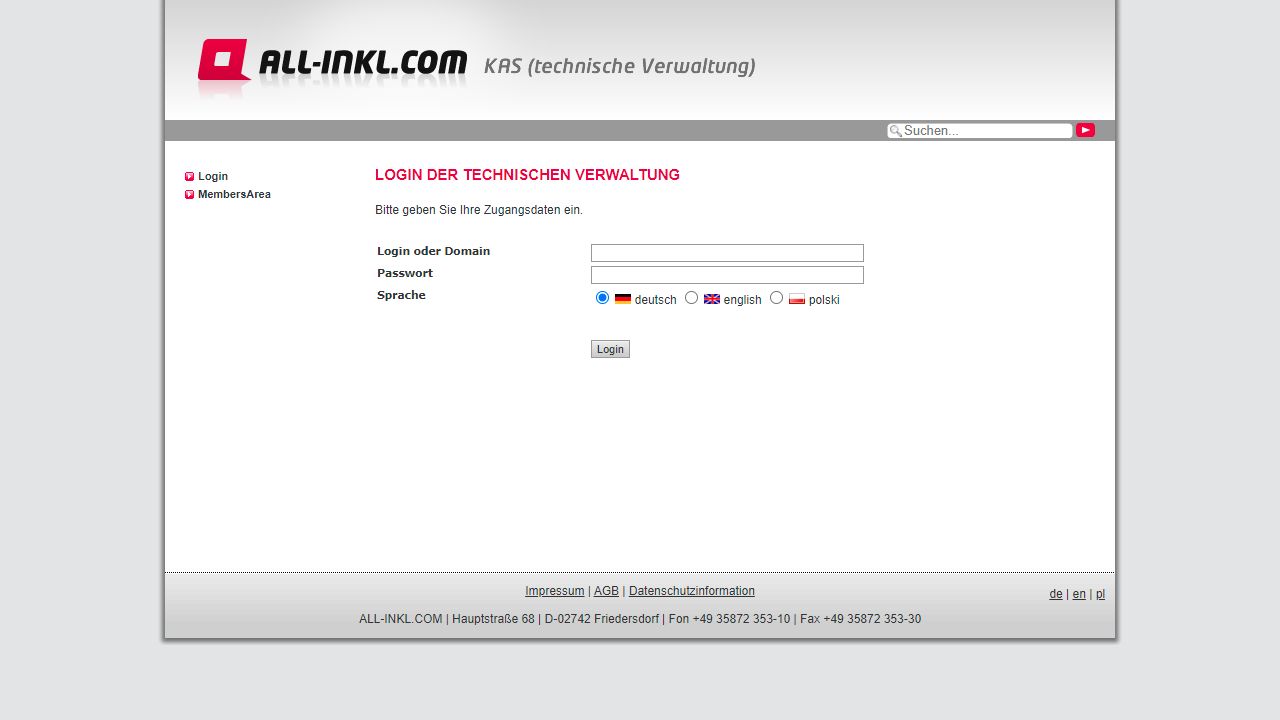 All-Inkl has built its own hosting panel. Hardly anything has changed in the last 10 years.
Even if a Plesk or CPanel looks more modern, the KAS still offers all the necessary functions and many additional small tools.
Among the functions are:
Account transfer
Import backups
Cronjobs
Move databases
DNS settings
Move hosts
SSH accesses
Directory protection
Move web building kit
Clean up web space
All-Inkl is not for environmentally conscious webmasters
We live in times where the topic of green IT can certainly play a role. Not necessarily must, but for many the climate and the environment gets an increasingly greater importance. Therefore I would like to mention that All-Inkl is relatively extensively active in motorsport.
The founder owns Münnich Motorsport and he is a racing driver himself or with All-Inkl also a big sponsor of the racing team. This is something that many people don't know, but due to our current climate catastrophe it might be of importance for one or the other accordingly. Of course, this does not mean that all alternative hosters are automatically green.
Personally, I do not want to appear judgmental at this point. It just caught my eye and because of the highest transparency I think it is important that possible new customers are informed about it. Whether you think this is good or bad, you can decide for yourself.
Conclusion about All-Inkl as WordPress hoster
One thing I would like to mention in advance, before I draw a conclusion. Classic hosting or renting servers was and is quite common to run a WordPress website. With the difference that there are now just additionally many special WordPress web hosts that approach the issue differently. Optimize the hardware and software of the servers to the CMS and also realize a server-side cache at the same time, which works together with WordPress in the best possible way.
All-Inkl is a bit old-fashioned for me, if I may say so. It starts with the website and continues with the very classic rates, which have little in common with modern hosting. No integrated CDN, no direct caching, no MariaDB and no LiteSpeed server. All of this, as I said, doesn't have to be bad, it's just kind of the hosting of old.
No matter how satisfactory the support may be, All-Inkl is out of date for me aside from the servers. So for pure WordPress hosting, there are definitely better deals for you elsewhere. If you are looking for a server on which you can install WordPress as you like, All-Inkl might not be so bad again. So it all depends on your own requirements and plans.